6 April 2020
Reenvisioning Community Engagement in the Coronavirus Response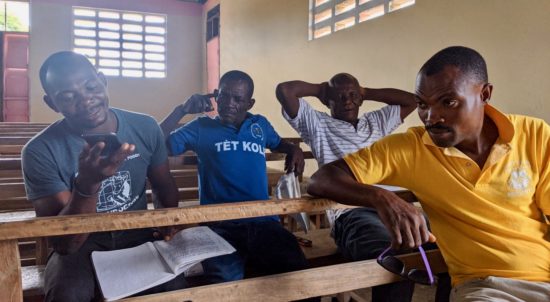 Given both the immediate need to bolster global capacity to respond to the coronavirus crisis and the long history of disaster response causing more harm than good, what steps can international financiers take to prevent a "second disaster"? As banks quickly mobilize COVID-19 response funds, they need to ensure that their expediency does not come at the cost of transparency and social and environmental due diligence, particularly consultation with affected communities. Skimping on these early steps is often at the root of harm in a project and the first place where well-intended efforts go wrong.
While no other method can be nearly as effective as in-person engagement, innovative community engagement tools may hold answers for how to conduct sufficient consultations during a pandemic without putting lives at risk.
Innovative tools for community engagement in a time of social distancing
In recent years, tech tools connecting people, governments, and project decision makers have grown increasingly popular as a means of improving civic engagement and feedback. In the right context, these tools can have real benefits. However, virtual engagement should always be a supplement, not a substitute, for in-person consultation when it comes to internationally financed projects. Communities – particularly Indigenous and traditional peoples who often bear the brunt of project impacts – face steep barriers to accessing such technology, including language and literacy, connectivity and energy access, security concerns, and gender disparities. Relying solely on tech solutions to share project information and receive community feedback risks excluding the voices of the vulnerable groups who most need to be heard.
That said, in the context of a disaster – especially a global health crisis where face-to-face gatherings put people and society at grave risk – there is a clear gap that technology can fill. If proactive steps are taken to address barriers to access, virtual engagement tools can be a valuable forum for disseminating project information and receiving community feedback without putting lives in danger. Our experience developing and implementing a tool for virtual community surveying, in partnership with a collective of farmers in northeast Haiti, provides lessons for how international financiers can ensure sufficient consultation in their COVID-19 response.
In 2011, Haitian farmers and their families lost their livelihoods when a large industrial facility was built on their land in northeast Haiti in 2011. After two years of delays, the cash compensation that was finally provided was insufficient to restore the farmers' living conditions. In response, the community formed the Kolektif Peyizan Viktim Tè Chabè (the Kolektif) – representing nearly 4,000 affected people – to seek fair compensation for their lost livelihoods, as well as meaningful consultation regarding the project's social and environmental risks and steps taken to manage negative impacts. Through an intensive year-long dialogue, the Kolektif reached a historic agreement with a development bank that financed the industrial park and the Haitian government. Accountability Counsel's lawyers and researchers as well as other advisors supported the Kolektif to negotiate on their own behalf throughout the dialogue process.
With the agreement in hand, the Kolektif identified a need for better coordination and information dissemination amongst their hundreds of members to ensure that its commitments are implemented effectively. We worked with leaders of the Kolektif to develop an innovative communications tool to bolster the farmers' access to information and mobilization. The result: Zwazo, a mobile messaging tool built on top of a Twilio API for conducting community-based surveys. Haitian community leaders (pictured above) are now using Zwazo to share critical details about agreement implementation with hundreds of farmers in order to keep implementation of the agreement commitments moving forward.
Principles underpinning good remote consultation practice
Building a messaging system with the Twilio API opened up many powerful avenues of communication, allowing us to send voice messages, texts, multimedia messages, WhatsApp messages, and more – reaching hundreds of individuals with the click of a button. It would be easy to be lulled into a false sense of effectiveness through tools such as these. But as with in-person community consultation, meaningful engagement must be a carefully designed, well thought out process that both mitigates harm and maximizes effectiveness. Compared with in-person engagement, remote consultation systems face additional hurdles, since any feedback must be channeled through a single and often unfamiliar medium.
Through the process of adapting Zwazo to suit the Kolektif's needs, we have identified the following key factors that helped make this tool an effective supplement to the extensive in-person engagement led by the Kolektif to understand the needs and experiences of their community. These principles should be applied to any attempt to remotely conduct community consultation processes.
1. Building and maintaining trust and consent
The agency of local communities and respect for their lived experiences are principles that all community consultations must uphold. As such, consent and trust are critical considerations for any and all outreach. Prior consent at the time of first contact is important, but consent must be re-validated in every interaction; for example by providing respondents a simple option to opt out of future messages, as well as the ability to "remove" themselves from both future engagements and from past communication records. These options must be clear, easy to interpret, and simple to act upon.
Consent is a necessary component of trust-building, but by itself is insufficient. Trust must be built – or earned – over time, by engaging with target communities for continuous, iterative feedback. When possible, results from these engagements should also be shared with the participants in a format, language, and medium that is both comprehensive and easy to understand.
2. Understanding the local context
An effective and responsibly conducted community survey needs to respect the social and economic context in which it is being conducted. In addition to broader respect-based principles and do-no-harm proscriptions, any communication strategy should consider the following:
Safety: Does participation in a survey have any possibility of putting community members in jeopardy, from a government, private entity, or other community members? Can the responses themselves cause, or be perceived to cause, adverse effects to the person or community?
Preferred modes of communication: Are voice calls common or considered an intrusion? Is texting more common, and if so, which platforms are most widely used; SMS? WhatsApp? Facebook? Surveys should be conducted in familiar forms of communication to reduce friction, increase engagement, and ensure higher quality results.
Accessibility: Is the preferred communication modality broadly accessible to all swathes of the community? For example, if WhatsApp is the primary form of communication for most community members, does this exclude lower income individuals who may not have smartphones or access to data plans? In addition, lower literacy rates may preclude text-based forms of surveying in favor of a voice-based approach.
Community-borne costs: Given the plans offered by cellular providers in a given region, how likely is it that respondents will have to pay to participate, by sending response SMS, accepting a phone call, or using data to engage on WhatsApp? Do any of these costs change if the number used by the surveyor is local or international?
Expectations: Have respondents been clearly and plainly informed about how responding to this survey will and will not affect their situation?
In the case of the Kolektif, the local context deeply informed the mode of outreach we used. Through Twilio, we had the option of surveying with Zwazo through voice calls, SMS, social channels, and email. After many rounds of testing and iteration to determine what method was best-suited for the Kolektif, we found that short, straightforward voice-based calls in Creole, recorded by a trusted community leader, were the most effective.
3. Accepting limitations
The best designed remote communication strategy will always pale in comparison to in-depth local engagement on the ground. Even the simplest remote community engagement requires resources and information that many communities may not have. Zwazo was built to account for low literacy rates, low smartphone adoption, and the absence of any internet and cellular data. Despite these measures, it still faces serious limitations in reaching families without phones, families that share phones, or families that live in areas with unreliable cellular networks. It is important to acknowledge the limitations of virtual consultations and avoid the temptation to use these easier (and often cheaper) methods in place of more substantive engagements when possible. In times of crisis, or as an option for routine follow-ups, remote communication can play an invaluable role, but it should always be seen as a way to do more, not as an excuse to do less.
As COVID-19 commitments translate to major new financial flows in the coming weeks and months, now is the time for international financiers to ensure that their community engagement plans are also commensurately responding to the crisis. Investing in remote consultation tools that follow the principles outlined above will not only enable financiers to uphold their mandated social and environmental protections, despite the challenges posed by the pandemic; it will also help prevent the second disaster that is all but inevitable if community voices are ignored in the coronavirus response.