10 December 2020
New Report, Accountability in Africa, Examines Harm From International Financial Flows and Recommends Action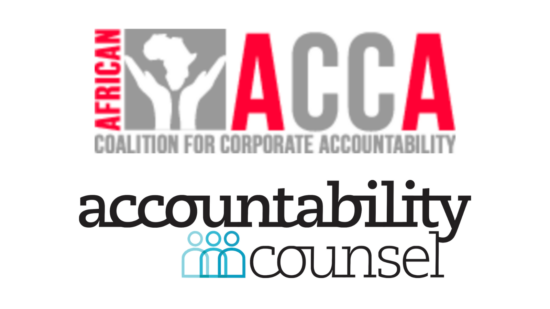 Today, on Human Rights Day, Accountability Counsel and African Coalition for Corporate Accountability (ACCA) launch our new report, Accountability in Africa: Harm from International Financial Flows and Strategies for Supporting Community-Led Access to Remedy. At a time when COVID-19 has heightened existing inequality and exacerbated barriers between those directing international financial flows into Africa and communities that bear the impacts of those decisions, the need for accountability is acute. This is also a moment in which momentum for communities to speak truth to power is growing, but this swell is matched by violent crackdowns against those who speak out around the globe. Accountability in Africa seeks to coalesce and energize the network of support for collective engagement on these issues and strengthen community power to access accountability and remedy.
This report, available in both English and French, is part of a collaborative effort to ensure that communities throughout Africa can access information about the sources of finance for projects that harm communities and the environment. In addition, this effort aims to educate communities about available avenues for remediating such harm. This report charts how communities use various avenues to demand justice and calls for policy-level change to improve accountability for abuse. Alongside this report, Accountability Counsel and ACCA are producing a series of webinars and workshops to engage with communities and their advocates so they can be heard in their efforts to protect their human and environmental rights.
"Access to remedy is at the heart of ACCA's mission. Indeed, in the African context, many victims of business-related human rights violations and environmental damages are left without a remedy. The Accountability in Africa report not only sheds light on these obstacles to justice, but also formulates useful recommendations for effective remedies. The additional obstacles to remediation arising from the COVID-19 pandemic make this report even more timely. The report provides legal and technical tools to civil society organisations, legal practitioners, and communities. It will immensely contribute to our advocacy work across the continent." – Dr. Sâ Benjamin Traoré, Project Coordinator at ACCA
Each year, hundreds of billions of dollars of international finance that flow from a variety of sources—from public development financial institutions to private investment and impact investing firms—cause tremendous harm to local communities and the environment. More often than not, the root of this harm is that investors fail to gather information about potential impacts of a project from local experts—members of the very communities that these projects harm. Accountability Counsel and ACCA have been gathering a comprehensive picture of the opportunities available to hold powerful actors accountable for harm caused by international financial flows in Africa. Accountability in Africa presents case studies of harm experienced by communities as a result of international investment and explores the range of venues that exist to raise grievances and access remedy. From formal court systems at national levels, to non-judicial accountability offices tied to international financial institutions, the report explores the opportunities and particular barriers that exist for holding actors accountable when they are located abroad.
Many international financial institutions are mandated to house an accountability office, a non-judicial mechanism that allows communities to raise grievances in response to impacts from a given investment. The growing prevalence of international finance stemming from international institutions to African countries has increased the number of non-judicial accountability offices available to African communities. However, barriers to their successful use are significant and widespread. Of the 233 complaints filed by communities in Africa to independent accountability mechanisms since 1995, the report finds that only 10.7 percent of those complaints moved through the mechanisms to result in tangible results for communities. Accountability in Africa demonstrates that there are opportunities to shift this statistic throughout the system of international finance, among governmental actors, and within communities that need information and support throughout a grievance process.
"The research and experience reflected in this report informed Accountability Counsel's investment in capacity to directly support African communities. I am proud to be leading Accountability Counsel's new Nairobi office, where we are growing our partnerships with local people and their advocates to seek justice in the face of environmental and human rights abuses." – Robi Chacha Mosenda, Africa Communities Associate at Accountability Counsel
Accountability in Africa offers a series of recommendations that require action. Among the priority recommendations:
STRENGTHEN RULES AND REGULATIONS THAT PROTECT COMMUNITY RIGHTS, PROMOTE ACCESS TO INFORMATION, AND GUARANTEE ACCOUNTABILITY;
GROW ADVOCACY SUPPORT FOR AFRICAN COMMUNITIES SEEKING REMEDY;
FOCUS ATTENTION ON PROVISION OF ACTUAL REMEDY, IN ADDITION TO ACCESS TO REMEDY; and
PREVENT HARM THROUGH COMMUNITY-LED DECISION MAKING ABOUT RIGHTS AND RESOURCES

Each recommendation maps action items for those who need to make this change, including investors of these international financial flows; communities, advocates, and civil society organizations; governments, both in African host countries and the home countries of corporations and institutions; companies and investors; and philanthropic funders.
"As we collaborate with communities to achieve justice when they have been harmed, Accountability Counsel also looks forward to sharing the report's findings with the international institutions, corporations, and philanthropists who have a role to play in using this learning to prevent harm and ensure accountability for their actions." – Natalie Bridgeman Fields, Founder & Executive Director of Accountability Counsel