8 June 2020
Unintended Impacts: Harm caused by Kenya's pandemic response underscores the need to safeguard vulnerable groups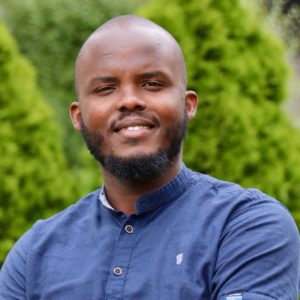 I moved back to Kenya on March 24, 2020, a day before the ban on international flights into Kenya took effect. At the time the pandemic was not very intense in Kenya, with only 25 confirmed cases, but the government had already started to enforce harsh restrictions, requiring that anyone arriving into the country quarantine for 14 days in government-approved facilities. This meant that I had to spend the next two weeks after my arrival strictly confined to a hotel room.
While my quarantine wasn't the homecoming I had been hoping for pre-pandemic, I'm well aware that I was one of the lucky ones. As the threat and intensity of COVID-19 increased world over, vulnerable communities bore the brunt of the effects – from lack of access to essential supplies and services, to employment issues, domestic violence and in some extreme cases, starvation. Government responses and measures to curb the spread, while necessary, have also made many of these impacts more acute, especially for those who are already vulnerable. This has proven to be the case here in Kenya.
Now, as development banks and other institutions mobilize needed COVID-19 response funds to Kenya and other countries, there is a risk that these efforts to help will further exacerbate the harm experienced by vulnerable communities if appropriate safeguard measures are not taken. These institutions should pay close attention to the effects and lessons from Kenya's current response to make sure that the support they provide helps build resilience to this and future crises, and does not worsen the situation for communities who are already disproportionately harmed.
Impacts of pandemic response in Kenya
Since announcing its first confirmed cases of Coronavirus over two months ago (March 13, 2020), Kenya has taken major steps to manage the spread of the virus in the country and ensure that those who have COVID-19 symptoms or test positive get the necessary medical assistance as soon as is reasonably possible. The Kenya Ministry of Health has been lauded for managing the situation by providing daily updates and informing the general public of what to do. The government of Kenya, in a bid to reduce the spread of the coronavirus, put in place measures such as:
A nationwide curfew from 7:00pm – 5:00am to limit the movement of people during those hours and ensure social distancing (note, the curfew has since been adjusted to 9:00pm – 4:00am);
An executive order on cessation of movement in and out of Nairobi, Mombasa, Kilifi & Kwale counties; and
An order that all Kenyans should have masks at all times when in public and failure of which would attract a fine of Ksh. 20,000 (USD 200) or imprisonment for a period not exceeding 6 months or both.
The measures, while done with all the right intentions, have raised fear and panic. Further, the enforcement of the order has resulted in human rights abuses, with alarming instances of police brutality including illegal arrests, violence, and even killings. Kenya's policing oversight body, The Independent Medico- Legal Unit (IMLU) has documented 15 cases of police killings and numerous cases of brutality since the curfew took effect. The murder of George Floyd in the United States at the hands of the police on May 25, 2020 and subsequent #BlackLivesMatter movement protests have initiated a conversation in Kenya on police oversight and accountability – one that is long overdue.
In addition to these direct impacts, the government's measures have also led to unintended consequences, ranging from reduced access to essential services and supplies in some regions to increased sexual and gender based violence. These effects fall most heavily on vulnerable groups in Kenya, including the poor, remote communities, traditional peoples, and women and girls.
1. Reduced access to essential services and supplies
While limited to major urban centers, the order on cessation of movement has also affected some of the most remote counties in the country, whose supply of essentials depends on other counties. Although the order technically allows for the movement of essential supplies and services, the informal and small scale nature of many transactions for essential goods means that they have, in reality, still been restricted by the cessation of movement. The impact of this gap in access is apparent in Lamu county, where I am supporting communities' efforts to stop the proposed Lamu coal-fired power plant.
"The situation in Lamu is not good, especially because of the closure of transport from Mombasa to Lamu since we all depend on Mombasa for everything, including salt." – Khadija Shekuwe, Coordinator, Save Lamu
Lamu is a small town on an island off the coast of Kenya, celebrated for its unique cultural heritage and biodiversity. With fishing and tourism as its two main economic activities, Lamu's economy is also seriously threatened by Kenya's pandemic response. Most fishing is done at night, but the curfew has made this impossible, thus reducing the amount of fish households can obtain and sell. Fisherfolk are also prevented from transporting their goods to other areas such as Mombasa, where much of their catch is usually sold. Now, with little to no cash coming in, the many households in Lamu who depend on fishing as a source of income are at risk of starvation.
Even the government's order requiring masks presents a disproportionate burden for vulnerable communities. For many, because of the hiked prices, masks have become difficult to afford. The government has issued some emergency supplies, but they are not adequate to reach everyone, especially those in rural areas and informal settlements in cities. This leaves civil society organizations and other well-wishers trying to fill this gap. For example, in Lamu, community-based advocacy group Save Lamu has embarked on an information campaign, sensitizing the people of Lamu on the effects of coronavirus and how to stay safe. By using pictographics, and recorded messages for radio and WhatsApp, there has been a notable change in how local communities are treating the pandemic. Moreover, in collaboration with other organizations in Lamu, Save Lamu has been working to meet their community's need for essential supplies by making homemade soap and masks from cotton and canvas materials. These have been approved by the Ministry of Health and are being distributed to the most vulnerable in the community. They have even gone further to provide hand washing equipment situated in various parts of Lamu.
Despite these efforts, there is still a lot to be done to safeguard health in Lamu, and the government needs to do more to accommodate and address the needs of vulnerable groups.
2. Disproportionate impact on women and girls
Since the announcement of the curfew and other pandemic-related restrictions, women and girls have faced heightened threats. For instance, with the curfew in place, many pregnant women are not able to access hospitals during emergencies, leaving them to deliver at home without access to necessary care.
Kenya has also seen a significant increase in cases of sexual abuse and domestic violence, with most reported cases relating to women and girls. The National Council on Administration of Justice (NCAJ) released a statement saying sexual offenses rose significantly in the two weeks following the government's announcement of the 7pm-5am curfew. The cases constituted over one third of the criminal matters reported within this duration. FIDA-Kenya, an organization that advocates on gender equality and campaigns on Sexual and Gender Based Violence (SGBV), launchd a toll-free number for communities to report cases, which received a total of 289 cases between April 15 and May 3, 2020.
"Most of curfew patrol teams are comprised of male police officers and very few female police officers which increases the risk of violence and mistreatment of women and girls who are found outside past curfew hours." – Racheal Mwikali, Coalition for Grassroots Human Rights Defenders (CGHRD)
Racheal Mwikali, Founder of Coalition for Grassroots Human Rights Defenders (CGHRD) who works in Mathare, one of the informal settlements in Nairobi, says that since the pandemic began there has been an increase in physical and psychological violence against women in many homes in Mathare, and that residents lack access to hotlines or other avenues to report these cases. For the cases her team has documented, she says that the police have been slow or hesitant to arrest the perpetrators because of the pandemic. In one case, an injured woman lost her life because she could not get transport to hospital out of fear of the police on patrol. In her assessment, Mwikali feels that the more days go by, the more the cases of domestic violence on women and girls will increase, and she hopes that the government will come up with a protection plan for girls and women at risk.
Human Rights Watch has similarly warned that the restrictions imposed in response to the COVID-19 pandemic are likely to make it harder for survivors to report abuse and seek help and for service providers to respond efficiently. It further asks that the Kenya government should urgently protect women and girls against violence during this crisis.
The role and responsibility of development banks in their COVID-19 response
In response to the unprecedented global health and economic threats posed by the pandemic, development banks and other international institutions are launching response funds to aid at-risk countries, including Kenya. On April 2, 2020, the World Bank Group Board of Directors approved USD 50 million in immediate funding to support Kenya's response to the global pandemic under the Kenya COVID-19 Emergency Response Project. This is part of nearly USD 2 billion in World Bank approved COVID-19 funding globally. Similarly, the African Development Bank launched a USD 3 billion "Fight COVID-19" social bond to help alleviate the economic and social impact the pandemic will have on livelihoods and Africa's economies.
This funding has the potential to address some of the gaps and disproportionate impacts from the Kenyan government's current response in order to better protect communities throughout the country. However, this outcome will not be achieved unless development banks also learn lessons from the harm resulting from Kenya's efforts to stop the spread and make sure that their own COVID-19 response or relief projects do not suffer from similar problems.
With support streaming in from different financial institutions, there is a lot of speculation as to the amount of oversight and transparency that will go into implementing the project(s) and how much (if any) community consultation will be done. Given the serious, disproportionate impacts that the government's pandemic response is already having on vulnerable communities, development banks need to make an active commitment to ensure their funding fixes these problems, rather than causing more harm. Now, more than ever, community expertise is needed to make sure these projects succeed, ensure that the most vulnerable in society get the necessary help they need to survive, and that all projects adhere to environmental and social safeguards. Unless the development banks commit time and resources to these issues, there is a risk that their intentions to support Kenya through this pandemic will instead worsen the impacts being borne by vulnerable communities.