22 November 2019
Investors in Nepal's hydropower sector must address concerns of local communities and Indigenous Peoples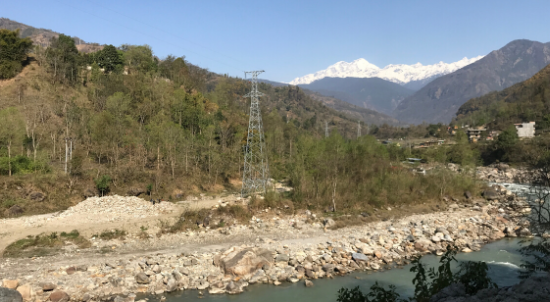 (Kathmandu, November 22, 2019) – Discussions taking place at this week's Power Summit must focus on addressing the concerns of project-affected communities and Indigenous Peoples on whose lands hydropower and transmission line projects will be built, said Accountability Counsel and Lawyers' Association for Human Rights of Nepalese Indigenous Peoples (LAHURNIP) today. The Power Summit 2019, organized by the Independent Power Producers Association of Nepal, is being held from November 21 – 22 in Kathmandu, Nepal.
"The systematic denial of the existence, concerns, rights, and voices of project-affected Indigenous Peoples and local communities is in direct conflict with the inclusive development envisaged by the Constitution of Nepal," said Advocate Shankar Limbu from LAHURNIP. "Existing policies and practices governing transmission lines in Nepal are inadequate. Affected communities are not provided project information, are not consulted on the design, route, and impacts of projects, and receive little in compensation or benefits even though these lines pass over their homes, fields, schools, and villages."
Accountability Counsel and LAHURNIP released a report and brochure today, titled "Investing in the Right of Way: International best practices to secure local community consent for transmission lines in Nepal". The report was sent to the key international investors funding these projects in the country, including the World Bank Group, Asian Development Bank, Asian Infrastructure Investment Bank, European Investment Bank, USAID, Millennium Challenge Corporation, and the German Development Bank (Kfw), many of whom are attending the Power Summit.
"Our report provides important lessons for investors in Nepal's hydropower sector to ensure they are responsive to the concerns of communities," said Anirudha Nagar, Communities Co-director at Accountability Counsel. "In the absence of strong policies in Nepal, we have examined international best practices on consultation and individual and community-level benefits, and made recommendations to investors so their projects are developed in ways that secure community buy-in in Nepal."
In furtherance of the Government of Nepal's ambitious target of generating 10,000 MW from hydropower projects from 2016 to 2026, several thousand kilometers of transmission line networks are planned to evacuate the power to be generated, both to the national grid and to neighbouring countries for export. This has brought large volumes of international finance, including from multilateral development banks, into the country's transmission sector.
However, transmission line projects have been notoriously fraught with challenges and delays in Nepal owing to disputes with project-affected communities. Communities have various concerns about these projects, including failures to be adequately compensated, consulted, and resettled; fears about effects on health and safety; concerns about agricultural, visual, and economic impacts; and the use of security forces and intimidation to propel projects forward and silence dissent. Shri Hari Prasad Adhikari, who is affected by the EIB funded 220 kV Marsyangdi Corridor transmission line in Lamjung district said, "There will be no sky left in Lamjung, with all these transmission lines!". Transmission line projects impact both the land on which towers are erected, and the land above which transmission wires pass. Shri Surendraswor Moktan, impacted by the Khimti-Dhalkebar transmission line in Sindhuli district said, "Our heritage and livelihoods are tied to these lands. Lands seized for these [projects] force people to move, leaving them with nothing."
The Nepal Electricity Authority (NEA), the country's state-owned power utility, has faced particular difficulties securing Rights of Way (RoW) from communities. Communities cannot build structures on land in the RoW, nor plant trees, and banks do not accept the property as collateral for loans. In exchange, the NEA has typically only offered compensation of 10 or 20 percent of the land's value, which is very low compared to other countries.
Communities in Nepal, including Indigenous Peoples, are not satisfied with these existing practices and have demanded higher rates of compensation in line with legal provisions that guarantee full compensation, community-level benefits, and their right to Free, Prior and Informed Consent (FPIC) which is protected under international law. The report released today makes recommendations on all of these issues through a survey of international best practice.
"It is time international investors take concrete steps to address communities' concerns about their lands, livelihoods, and way of life, akin to practices that would be followed in their own countries," said Nagar.
A Nepali version of the brochure is available here.
For further information, contact:
Shankar Limbu, Advocate, LAHURNIP
Anirudha Nagar, Communities Co-Director, Accountability Counsel