12 March 2019
Accountability Counsel Presents on Community Feedback in Impact Investing for Transform Finance Webinar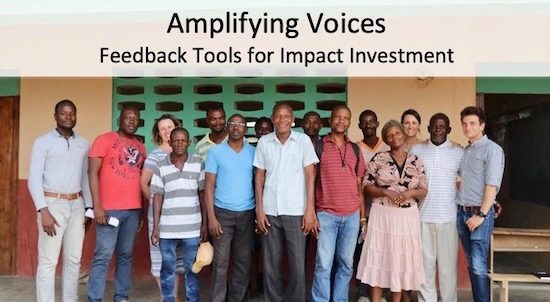 Accountability Counsel gave a webinar presentation today on incorporating community feedback into impact investments. The presentation, entitled How Community Feedback and Accountability Mechanisms Can Advance the Field of Impact Investing, is part of a series of webinars hosted by Transform Finance.
Accountability Counsel's Policy Director Kindra Mohr and Global Communities Director Sarah Singh led the presentation, along with researcher and advocate Joanna Levitt Cea. The presentation demonstrated how impact investors can learn from the experiences of development finance institutions (DFIs) and use community feedback to identify environmental or social risks and redress negative impacts on local communities. Accountability Counsel used case studies from our experience in Liberia and Haiti to illustrate how community feedback mechanisms operate and the value they can bring, not only to local communities, but also to investors by enhancing risk management and improving outcomes on the ground. By putting communities at the center of investments, investors can better measure their net impacts and also ensure that their investments lead to positive, sustainable impacts for the communities themselves.
Drawing on our years of experience with DFI accountability mechanisms, Accountability Counsel has engaged with a variety of leaders in the impact investing space to raise awareness about the risks of failing to heed community feedback and the benefits of community engagement. Accountability Counsel will continue to collaborate with impact investors on fit-for-purpose solutions and lead the push for embedding community feedback into this burgeoning field.