8 January 2019
The World Bank Group President Steps Down, Adding to Washington Ethics Lapses and Cementing a Legacy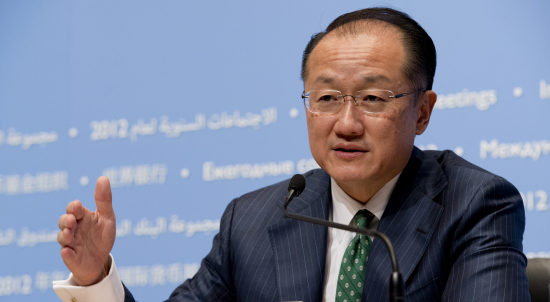 Yesterday, World Bank Group President Jim Yong Kim's announcement of his sudden departure signaled that something is deeply amiss. His February 1, 2019 departure date, more than three years before the end of his term, translates into unanticipated costs to the Bank as it is forced to prematurely undergo a major leadership change. The full story about why he resigned is not yet public. But there is much that can be said about Kim's legacy as a Bank President, his immediate next move that violates the Bank's Code of Conduct, and implications for the future of Bank leadership and the institution as a whole.
We are living in an era of ethical scandals in Washington and this is yet another example. Kim spent his tenure at the Bank working to move money from the public sector to private financial institutions, particularly for infrastructure funding in developing countries. That effort will now presumably benefit him in his new job. Kim announced that "immediately after his departure, he will join a firm and focus on increasing infrastructure investments in developing countries." Unless there is an undisclosed authorization, this violates the Bank's own ethics rules, namely the Bank's Code of Conduct (18, SR 3.02 and 3.04). There is a reported one-year ban on Kim's dealings with the World Bank Group itself, but without a "cooling off" period related to the Bank's clients, one could reasonably conclude that Kim made executive-level decisions at the World Bank Group, using public money, in order to favor the interests of a future private sector employer. One could argue he did this for his own personal benefit, breaching his fiduciary duty to the Bank's intended beneficiaries: the world's poor.
In a note to staff, Kim described this new role as "the path through which I will be able to make the largest impact on major global issues like climate change and the infrastructure deficit in emerging markets." However, arguments that the poorest of the poor or the climate will benefit from scaling up infrastructure megaprojects are dubious, and our work shows counter-examples. When presented with information about Indigenous People we work with in Nepal who were beaten by the police over requesting basic information about a World Bank-funded power transmission line displacing them from their land, Kim discounted their grievances. His lack of concern about these Bank-affected people in Nepal reflected the tenor of his Presidency. While he was a strong advocate for private banks, he was not a strong advocate for poor and marginalized communities.
One commentator who shares Kim's enthusiasm for private infrastructure lending argues that Kim was right to leave because the Bank was not doing enough in this regard, and that the Bank is just a "bloated bureaucracy." As the commentator rightly points out, the Bank is a big player in infrastructure development, but other private players and the Chinese are increasingly eclipsing its role in these investments. The answer for the Bank may not be to double (or quintuple) down on infrastructure funding, but rather to take a look at where it could add value. Under new leadership, we can imagine an institution of global reach that can invest in community-led development, advance strong social and environmental standards, and provide a model for community feedback and accountability for all investors.
Instead, Kim leaves the Bank with its core accountability functions under threat, while at the same time refuting the Bank's ability to be held legally liable for abuses. The priorities he championed of "crowding in the private sector" and dramatically scaling up financial intermediary lending further remove the voice of project-affected people from the Bank's decision making. People cannot raise concerns about abuses and violations of World Bank Group social and environmental policy if the money goes from the Bank to commercial banks, which in turn do not account for development impacts of their portfolios, let alone harm, from their investments. Using accountability mechanisms in this context to hear from communities about harm from investments is nearly impossible.
We look forward to a future leader who better listens to those the Bank was established to serve and plays to the Bank's potential strengths in a changing era of competition. As we renew our call for a more equitable selection process for the next President of the Bank, in the immediate term, we hope Interim President Kristalina Georgieva draws from the wider community of voices around the world that are looking to the Bank to chart a more just and inclusive path forward.
Photo Credit: Ryan Rayburn / World Bank