27 August 2017
At Plantation General Meeting CSOs Call Out World Bank for Broken Promises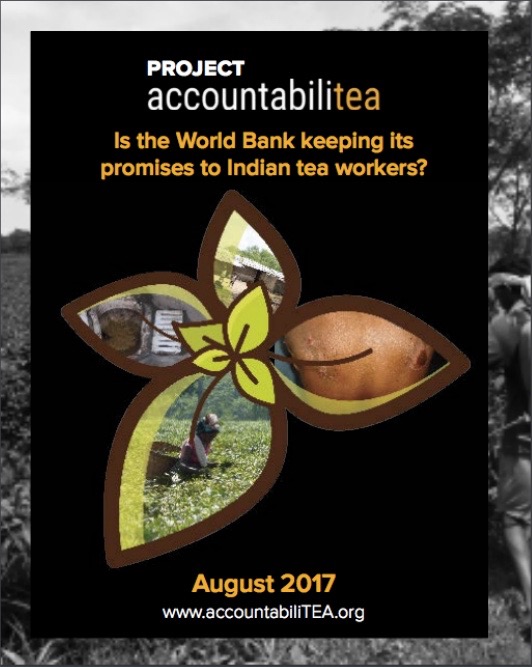 Today, civil society groups supporting tea workers in the Indian state of Assam held a press conference in Kolkata, hours before the board of World Bank-financed tea plantation, Amalgamated Plantations Private Limited (APPL), was set to meet for its annual general meeting.
The groups, which included Accountability Counsel, Promotion and Advancement of Justice, Harmony and Rights of Adivasis (PAJHRA), People's Action for Development (PAD) and , launched an exposé, called "Project AccountabiliTEA." The exposé finds the World Bank Group has broken promises to Indian tea plantation workers in its joint venture with the Tata Group through APPL. More than 155,000 people – including workers and their families – live on APPL plantations in West Bengal and Assam. Project AccountabiliTEA demands that tea workers' concerns must be foremost at the company's general meeting agenda on August 30 and into the future.
"The World Bank prides itself on being an honest neutral broker for communities in development projects," said Anirudha Nagar, South Asia Director, Accountability Counsel. "To live up to its claims, the bank must urgently make whole on its promise to ensure workers are consulted by a legitimate third party. This will create a credible action plan, which the bank must ensure is adequately resourced."
In November 2016, the World Bank's watchdog, the Compliance Advisor/ Ombudsman (CAO) found serious human rights abuses on APPL plantations following a three-year-long investigation. Instead of lifting workers out of poverty, the investigation found that workers at plantations financed by the World Bank are denied fair wages and the freedom to associate, are exposed to dangerous pesticides, and are living in conditions harmful to their health. The watchdog also confirmed that a worker shareholder program, designed to provide workers with agency, was riddled with problems due to the failure to ensure workers were adequately informed.
The World Bank ignored most of these findings, and endorsed an initiative called, "Project Unnati" – "progress" in Hindi. The bank promised to make certain limited changes by March 2017. As of August 2017, most of these promises remain unfulfilled.
"Even after the watchdog's findings and subsequent promises to make improvements, little has changed on APPL's plantations," said Wilfred Topno, Director of PAD said in a statement at the press conference.
"Living conditions continue to remain oppressive and unsafe for tea workers, with crumbling housing, squalid sanitation, the absence of toilets and unclean drinking water", said Stephen Ekka, Director of PAJHRA. "The World Bank and APPL have also failed to provide safety training or ensure basic protection gear for pesticide sprayers."
Project Unnati does not address the root causes of workers' poverty, with APPL continuing to pay poor wages and limiting workers' freedom of association.
"By denying living wages, the World Bank is violating its own policies. Meanwhile, APPL is contravening a number of national laws, like the Minimum Wages Act, 1948," said Jayshree Satpute, lawyer and co-founder of Nazdeek.
In November 2016, the World Bank committed to selecting an "independent third party" to consult with workers on its action plan. But, nearly a year after the bank's response, a consultant is yet to be hired for this crucial task.
Accountability Counsel and its partners in India continue to call for the World Bank to accept the findings of the CAO and finally initiate a meaningful consultation with workers that will really address the root causes of their suffering and grant them the access to information they need to be authentic shareholders in the success of the plantation.