7 March 2017
Supporting the Women of Caracol, Haiti this International Women's Day 2017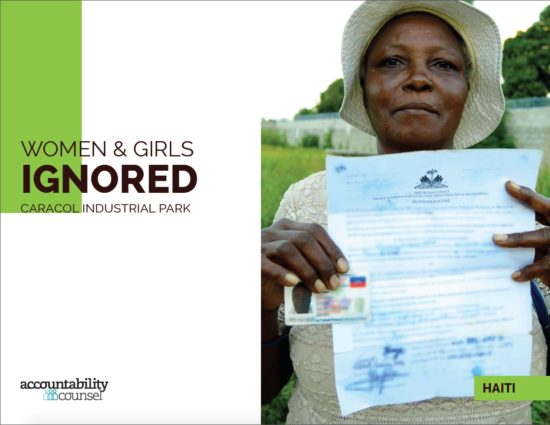 On International Women's Day 2017, Accountability Counsel is celebrating women around the world who are fighting to protect their human rights and their environment. Women like Marie Marthe Rocksaint, Ilna St Jean, and Vigénise Bien Aimé – smallholder farmers displaced from their land in Haiti to make way for the Caracol Industrial Park, a garment factory project funded by the Inter-American Development Bank. In support of these women and their families, we have published a new brochure, "Women & Girls Ignored", explaining the distinct and disproportionate harm suffered by the women and girls of Caracol as a result of their displacement.
In spite of how they have been treated, the women of Caracol believe that fair compensation remains possible. They have organized together with other displaced farmers to form the Kolektif Peyizan Viktim Tè Chabè. Working in collaboration with more than 200 victims of the displacement, the Kolektif has developed a detailed proposal, which they seek to discuss with the Bank and its client.
This International Women's Day, please take the time to read and share their stories. For more information about the Kolektif's complaint and proposed solutions, please see the case page here. You can read more about our gender approach to our work, here.