7 November 2016
Investigation Finds Serious Labour Violations on World Bank Group Owned Tea Plantations in Assam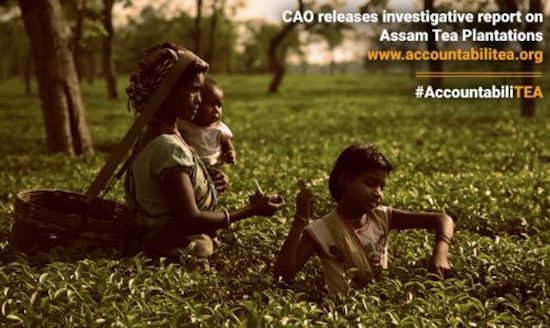 Today, the Compliance Advisor Ombudsman (CAO), the accountability office of the World Bank Group, released an investigation report on the International Finance Corporation's (IFC) investment in tea plantations in Assam, India, where Accountability Counsel is supporting the complainants: in this case, local NGOs that brought a complaint to the CAO in 2013 on behalf of workers.
The majority of tea workers in Assam belong to adivasi (indigenous) communities who were forcibly brought from central India to Assam to pluck tea under British colonial rule. These workers and their families depend on the plantations for their livelihoods and almost all other aspects of their life.
The investigation in this case concerned the IFC's equity investment in Amalgamated Plantations Private Limited (APPL), the second largest producer of tea in Assam, with over 155,000 people that live and work on its plantations. In 2009, the IFC joined forces with Tata Global Beverages to preserve over 30,000 jobs and to implement an employee-share-ownership program, offering workers the opportunity to make decisions in the company and share in its profits. The IFC invested US$7.8 million for a 19.9% stake in APPL, while Tata retained a 49.6% stake.
After a three-year process, the CAO's investigation report was released today and finds that low wages and poor working conditions on APPL plantations do not "'protect and promote' the health of workers, and thus [do not] provide a way out of poverty." Tea workers in Assam are currently paid a cash wage of only 126 Rupees per day (around US$1.90).
The report also validated concerns workers have been raising for years about poor housing, sanitation, the use of pesticides without adequate protections, and lapses in the roll-out of the employee share ownership program.
The IFC was supposed to create an action plan that would directly, and in a timely fashion, address the CAO's findings. Unfortunately, its response, released alongside the report, is very limited in scope. Rather than addressing the root causes of workers' poverty as highlighted in the report, the plan prioritizes a few actions relating to human health indicators over the next two years, including housing improvements, sanitation facilities, and access to clean water.
To bring more attention to the issues raised in the report, we have launched a campaign website, www.accountabiliTEA.org, where you can find the CAO report and IFC response. You can also view videos and photos, and help to spread the word by signing our petition and using suggested tweets with the hashtag, "#accountabiliTEA."