Policy Director | Washington, D.C.
Position
Accountability Counsel is seeking a dynamic, experienced leader to join us as a full-time Policy Director, based in our Washington, D.C. office. This is a rare opportunity to be part of a growing, fast-paced, leading organization that works to achieve accountability for human rights and environmental abuses caused by international finance.
The Policy Director is a senior member of Accountability Counsel's leadership team and is also responsible for implementation of the organization's Policy Advocacy strategy, which is focused on non-judicial accountability systems. In particular, we are seeking a leader to advance our work focused on the improvement and creation of accountability offices tied to international finance and development. The position reports to Accountability Counsel's Executive Director.
About Accountability Counsel
Accountability Counsel amplifies the voices of communities around the world to protect their human rights and environment. As advocates for people harmed by internationally-financed projects, we employ community driven and policy level strategies to access justice. We seek a world where communities harmed by abuses can secure remedy to realize rights. We are creating a system where effective and robust accountability systems deter abuses.
We specialize in non-judicial accountability offices established to receive community grievances. We accomplish our mission through our work in three program areas: (1) Policy Advocacy, ensuring that accountability offices are accessible, transparent, and fair tools for justice; (2) Communities, providing grassroots legal support and assisting communities to use accountability offices effectively; and (3) our Research program, providing concrete research and tools for the movement for accountability more broadly. We work closely with civil society partners and community members to help voice their complaints. Our work is guided internally and externally by a respect-based approach. We pay particular attention to women, girls, and other marginalized groups, who are often the most deeply harmed by abuses.
Founded in 2009, Accountability Counsel is an award-winning nonprofit organization with headquarters in San Francisco, a Washington D.C. office, and growing offices in world regions, including Asia and Africa.
Responsibilities
The Policy Director is responsible for:
1. Organizational Leadership and Management (15% of time)
The Policy Director will work closely with the Executive Director and other Program Directors to ensure that Accountability Counsel is mission-driven, operates in accordance with the highest levels of professionalism, and in accordance with the organization's values and strategy.
As part of the leadership team, the Policy Director will support the wellness, training, professionalism, and impact of our team.
2. Policy Advocacy (80% of time)
     a. Review and Evaluation
The Policy Director participates in the periodic review and evaluation of Accountability Counsel's Policy Advocacy strategy.
     b. Implementation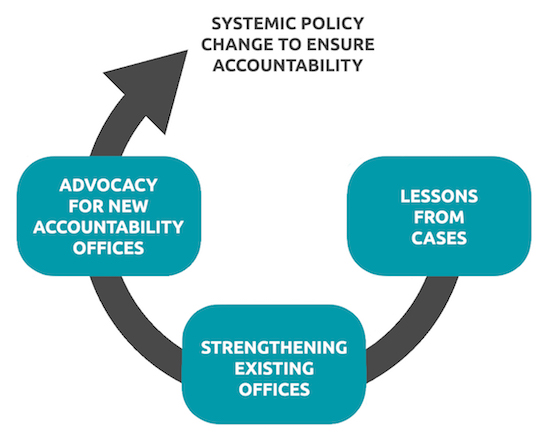 The Policy Director serves as the primary person responsible for implementation of the Policy Advocacy program strategy.
The Policy Director will oversee a current three-person team of talented policy advocates in Accountability Counsel's Washington, D.C. office. The Policy Director will lead the team through an exciting period of growth as the organization enters its second decade.
A main responsibility includes management of relationships with key stakeholders (including policy-makers, staff and leaders of global institutions, accountability office professionals, the business and human rights community, and civil society partners) in order to advance the Policy Advocacy program goals of:
strengthening existing accountability offices to ensure independence, fairness, transparency, professionalism, accessibility, and effectiveness of accountability offices;
advocating for creation of new accountability offices; and
translating lessons from cases into advocacy for systemic change and prevention of harm.
Much of the Policy team's work advancing these three goals requires intensive collaboration with Accountability Counsel's Communities and Research program teams, as well as our broader civil society community.
This programmatic work also includes ensuring that communications regularly reflect Policy team learning, advocacy work, and thought leadership.
3. Other (5% of time)
Additional duties include:
supporting organizational-level

communications

goals;

administrative

duties, including a key role in hiring in Accountability Counsel's Washington D.C. office and some participation in hiring of other key organizational roles over time;
occasional assistance with

fundraising

, including review of grant reports and participation in events.
Qualifications
The Policy Director must have the following qualifications:
Education: an advanced degree in law, public policy, or other relevant field;
Experience:

at least 10 years of professional work experience in a related area (e.g. corporate accountability, international financial institutions, human rights, or environmental justice);
experience working with or for civil society organizations;
demonstrated advocacy experience with a track record of success;

Skills:

fluent English language skills, and excellent written, verbal, analytical, and organizational skills;
positive attitude, a sense of humor, and excellent judgement and interpersonal skills;
management and professional skills that include the ability to work independently, as a team, and also to supervise and inspire staff and external pro bono teams;
demonstrated ability to work within tight deadlines, set priorities, and produce under pressure;

Travel: willingness and ability to travel domestically and internationally;
Mission Alignment: passion for Accountability Counsel's community-led mission, respect-based approach, and a commitment to working with a small, but highly committed team of professionals toward shared goals.
The following qualifications are highly valued:
knowledge of the workings of international financial institution accountability offices and/or OECD National Contact Points;
an established professional network in the field of international finance and development;
experience living in the Global South and/or working with marginalized groups using a respect-based approach;
Congressional advocacy experience;
fluency in languages in addition to English (in particular, Mandarin, Spanish, and/or French).
Compensation and Benefits
Accountability Counsel offers competitive non-profit compensation and benefits, commensurate with experience. Benefits include full health, vision, and dental coverage, retirement contributions, professional development resources, generous paid time off and sabbatical policies, and other benefits. We pride ourselves in supporting the wellbeing of our team.
Application Process
To apply, please complete the application form below, where you may upload a cover letter (stating your qualifications as they relate to the stated responsibilities) and your resume.
Application Timeline
Applications will be considered on a rolling basis. Position to be filled as soon as possible, so please apply right away. Due to the volume of candidates anticipated and size of our organization, we regret that only shortlisted candidates will be contacted regarding further steps in the application process.
The estimated start date is as soon as possible.
Accountability Counsel is an equal opportunity employer that does not discriminate on the basis of race, religion, disability, gender, nationality, ethnicity, sexual orientation or other prohibited category. We strongly encourage people of color, LGBTQIA individuals, people with disabilities, and all qualified persons to apply for this position.
Application Form