30 March 2023
Joint Statement on World Bank Accountability Mechanism's Decision to Limit Application of Operating Procedures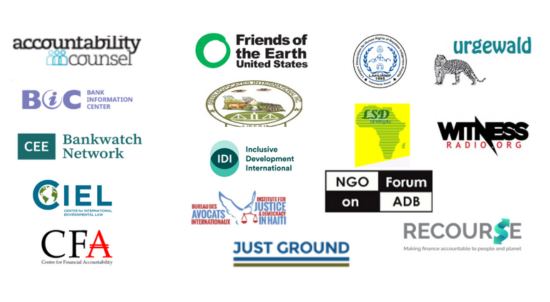 Accountability Counsel, along with other civil society organizations, expresses alarm over a recent announcement by the World Bank Accountability Mechanism that its final operating procedures would not apply to all of its cases. The final operating procedures, published in December 2022, state that they "apply immediately upon issuance" and "supersede the DRS interim operating procedures" and thus we expected them to apply to ongoing cases. However, on March 6th the Accountability Mechanism Secretary, who is responsible for issuing and interpreting mechanism procedures, clarified that the final operating procedures would not apply to two ongoing cases.
The announcement reads: "The Accountability Mechanism Operating Procedures supersede the DRS Interim Operating Procedures, originally issued in October 2021. The DRS Interim Operating Procedures continue to apply in full in cases where the Parties commenced mediation prior to the issuance of the AM Operating Procedures […] Specifically, DRS cases 21/01/DRS and 21/04/DRS." Those two cases are: Uganda (Second Kampala Institutional and Infrastructure Development Project (KIIDP-2) (P133590)) and Nepal (Nepal-India Electricity Transmission and Trade Project (P115767) and its Additional Financing (P132631)).
We disagree with the Accountability Mechanism Secretary's decision not to apply the final operating procedures to these two cases for the following reasons:
Communities in these two cases are given fewer accountability options. The final operating procedures clarify that eligible issues unresolved by dispute resolution can be investigated by the Inspection Panel. While the interim procedures did not prohibit this so-called partial resolution option, they also did not expressly state that the process was available. By restricting the application of the final operating procedures, the Accountability Mechanism Secretary has decided not to permit eligible unresolved issues to be investigated for two cases if an agreement on some issues is reached.
This leaves a potential accountability gap for the World Bank regarding two projects. While a dispute resolution process is typically undertaken by affected communities and borrowers, the Inspection Panel investigates the World Bank's own compliance with its policies and procedures. The Accountability Mechanism's decision to not permit eligible unresolved issues to go to compliance for two projects means that there could be noncompliance that goes unexamined and unresolved.
The decision is inconsistent with good practice. Typically, new operating procedures apply to all cases as soon as they are published. Consistent with that good practice, the World Bank Inspection Panel is applying its December 2022 operating procedures to all cases immediately.
Dispute resolution is voluntary, and parties can determine what conditions they require to come to the table, including whether or not to require full resolution of all issues. Taking that choice from the parties is an overstep. Our expectation of all accountability mechanisms is that they will champion the rights and needs of communities, not borrowers or banks. While we respect the Accountability Mechanism Secretary's mandate to interpret their own procedures, we believe that this decision was incorrect and will undermine communities' trust in the mechanism going forward.
This statement is endorsed by:
Accountability Counsel
Bank Information Center
CEE Bankwatch Network
Center for International Environmental Law (CIEL)
Centre for Financial Accountability
Friends of the Earth United States
Green Advocates International
Inclusive Development International
Institute for Justice and Democracy in Haiti
International Accountability Project
Just Ground
Lawyers' Association for Human Rights of Nepalese Indigenous Peoples (LAHURNIP)
Lumière Synergie pour le Développement
NGO Forum on ADB
Recourse
Urgewald e.V.
Witness Radio Uganda