27 January 2023
DFIs Are Not Transparent and This Hurts Local Communities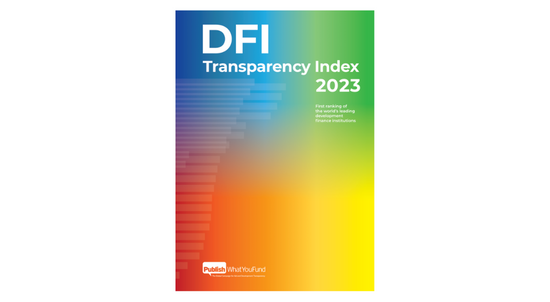 This week, Publish What You Fund, launched its first DFI Transparency Index, the culmination of years of work to ensure that development finance institutions (DFIs) are transparent to stakeholders. The overwhelming conclusion of this year's Index is that DFIs are largely not transparent, and this needs to improve. We have seen the devastating impacts of the lack of disclosure of information of DFI activities to affected communities and call on DFIs to respond to the Index by increasing their transparency and accountability to those most affected by their activities.
Index Findings: DFIs are Insufficiently Transparent
The Index examined the transparency of DFIs across several categories of information necessary for stakeholders to have an understanding of DFI activities and their effectiveness, including core information, impact management, Environmental, social, and governance (ESG) and accountability to communities, financial information, and financial intermediary sub-investments. The Index analyzes information on DFIs' sovereign investments – investments made to government entities – and non-sovereign or private sector investments separately. The DFIs analyzed received a score in each category of information and an overall score. Although some of the DFIs may use their relative position to brag about their transparency – for example, the U.S. International Development Finance Corporation (DFC) scored the highest of bilateral DFIs in the non-sovereign category – the Index is clear: DFIs are insufficiently transparent. Even though the DFC is the highest ranked bilateral DFI, it only scored 38.2 out of 100.
Transparency Matters to Communities Impacted DFI Investments
Transparency is crucial to local communities most affected by DFI investments. In our experience supporting communities around the world, basic information about DFI projects and their impacts are often unavailable. This can have devastating implications for these communities. In Nepal, for example, nobody consulted with Indigenous communities about a transmission line funded by the European Investment Bank even though it is to be built on their land. Having never been made aware of the proposed project and its impacts, the communities had to file a complaint to the EIB after project implementation began and harm already occurred. The communities in Nepal are not alone in their experience. A lack of consultation and disclosure is one of the most complained about issues from communities raising concerns about DFI projects. Unsurprisingly, the EIB only scored 35 out of 100 for its non-sovereign operations and 37 for its sovereign operations.
All DFIs Need to Increase Transparency and Accountability Now
The Index helpfully includes indicators on disclosure of ESG and accountability information to communities – sometimes conversations on DFI transparency only focus on financial information. One of the indicators examines whether DFIs require clients to disclose information about the DFI's independent accountability mechanism to project-affected communities. Independent accountability mechanisms are important governance tools that allow communities to raise human rights and environmental concerns to the institutions financing projects. In recent years, several DFIs have instituted requirements for clients to disclose information on their mechanisms. However, as the Index found, DFIs are not sharing information on assurances that this disclosure is being carried out, meaning that communities could still be left in the dark about their options for raising concerns about projects.
Strikingly, several DFIs analyzed in the Index, including British International Investment, do not even have an accountability mechanism. All DFIs need to establish an independent accountability mechanism now, following best practices for ensuring that these mechanisms are effective.
While it is positive that the Index covers disclosure of accountability options, disclosure is not enough to ensure that communities harmed by DFI projects receive meaningful remedy for these harms. Although independent accountability mechanisms have existed for 30 years, challenges remain in ensuring that DFIs fully address findings of harm. For example, although the International Finance Corporation scored the highest among non-sovereign DFIs, several cases of unremedied harm have called into question the IFC's commitment to accountability. We are currently studying the outcomes of accountability mechanisms and how successful – or not – DFIs have been in making communities whole after a project causes harm. We expect to release findings later this year, and this information should bolster the Index's message that information on a DFI's track record of accountability to communities is crucial.
Publish What You Fund expects to release a new index in the next couple of years. We expect to see significant progress by the next time this index is published. The status quo is just unacceptable to communities impacted by DFIs' work.
Related Posts